Welcome to Cupertino ARES/RACES
This site is operated by and for Cupertino Amateur Radio Emergency Service (CARES) members interested in emergency preparedness and amateur radio communication. Visitors are welcome to check us out.
---
What's News!
Mesh Networking in Cupertino
Posted by Jim KN6PE, 5 Jun 2015
Looking to try out a new mode of operations? Well, then think Mesh Networking! Mesh combines the best of Amateur Radio and contemporary Wi-Fi technologies, and gives us an opportunity to enhance our response for our Served Agencies. Interested? For starters, see the Mesh Network Introduction and check out what Santa Clara County RACES has been doing as well.
Field Day right around the corner!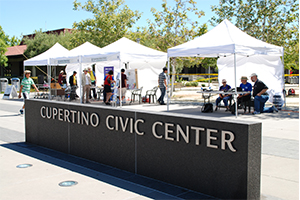 Posted by Darryl KI6LDM, 4 Jun 2015
Are you ready for the 2015 Field Day? Interested trying your hand at HF, Packet, ATV, or Mesh networking? Then this Field Day is for you! Check out the plan as reviewed by Darryl KI6LDM at June CARES meeting. See the Field Day Review for the details.
More Details...
4th of July Fireworks Canceled
Posted by Allan KD6QPP, 27 May 2015
The City of Cupertino cancelled its annual Forth of July Fireworks event due to drought conditions. See the City statement for more details.
More Details...
Infrastructure Safety Assessment
Posted by Jim KN6PE, 16 May 2015
Fifteen CARES members turned out to execute the Infrastructure Safety Assessment (ISA) Process with excellent results. All assigned assets were found and reported. See the After Action Report for details!
More Details...
More News: Home, Recent 1 2 3 4 5 6 7 8 9 10 11 12 13 14 Previous
Upcoming Activities

1 Dec 2022, General Meeting
Topic: Exercise Review (?), Year in Review, 7:30pm, Zoom

7 Dec 2022, New Member Orientation
A short introduction to CARES. 7pm-8pm, Location TBD

5 Jan 2023, Drill Prep
Topic: Prep for the January Alt911 Field deployment, 7:30pm, Zoom

21 Jan 2023, ALT911 Exercise
Field deployment with packet and voice message passing, 8:30am to 12:00pm