Welcome to Cupertino ARES/RACES
This site is operated by and for Cupertino Amateur Radio Emergency Service (CARES) members interested in emergency preparedness and amateur radio communication. Visitors are welcome to check us out.
---
What's News!
What's in your Go-Kit?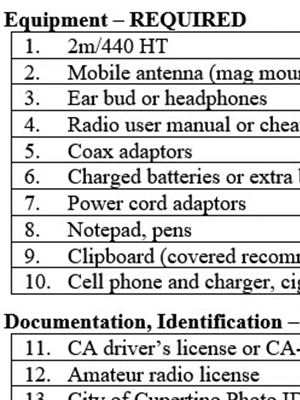 Posted by Jim  KN6PE, 6 Mar 2019
Technically, a Go-Kit is
a pre-identified collection of equipment and personal gear that you will need to perform your duties as an Emergency Communicator in the event of an activation.
Yet, they are also a reflection of our personal style on how we respond to the field. The parts we assemble, how we store them, power them, and use them help ensure our success during a deployment. This is the topic for the March 2019 CARES meeting.
See the
Go-Kit presentation
for all the details.
A fresh look at generators and batteries
Posted by Jim  KN6PE, 3 Jan 2019
Every so often, you attend a meeting and listen to a topic where, as you look around the room, everyone is leaning in to listen attentively to something new and exciting. This was the case at tonight's CARES January 2019 general meeting.
We had the pleasure of hearing Dr. Richard Wheeler / AI6RW discuss his work on extending the operating time of radios during electrical power blackouts after an earthquake. This topic was very relevant given that Cupertino Citizen Corps just wrapped up its 2018 Earthquake Exercise this past December.
This was not just another topic on batteries and generators. Richard walked us through his work looking at gasoline and propane generators, comparing 2 different propane generator models, generator efficiencies, Lithium generators (battery systems), solar charging, and the conclusions he reached on the combined use of low-cost propane generators with Lithium generators.
This brief introduction does not do his work justice. Instead, check out his presentation titled
Goal Zero Lithium Power Stations
for all the details!
Earthquake 2018 End to End Exercise

Posted by Jim  KN6PE, 15 Dec 2018
CARES plans to invoke several response activities during an earthquake-related activation, including the
Preliminary Safety Assessment
, Infrastructure Safety Assessment, Field Operations, and EOC communications support. While each process has evolved over the years, we never ran a full end-to-end exercise that touched on them all at the same time.
This was the challenge with our Earthquake 2018 exercise.
Leveraging the U.S. Geological Survey 2018
Haywired Scenario
, CARES exercised all of our response activities over 2 shifts and at our Alternate EOC. The scenario was a Bay Area 7.9 earthquake on the San Andreas Fault. Twenty-five CARES and 14 CERT members responded over 2 shifts in this joint field deployment. Alternate 911 message passing was one of our key objectives (with some interesting
side-benefits
). Resource Management was the other big objective and the focus for a good portion of the EMCOMM management activities.
As always, a lot was learned and we now have a plenty of follow-up actions on which to work to keep us busy. See the
event page
for all the details!
Cupertino family, fun, and fireworks!

Posted by Judy KK6EWQ, 6 Jul 2018
Independence Day in Cupertino brings hundreds of families together every year to watch a great fireworks show, and it provides an opportunity for Cupertino CARES, CERT, and MRC to work side by side in partnership with Cupertino Recreation and Public Works, the County Sheriff's Office, and County Fire.
This year we staffed road closures, parking lots, first aid stations, and viewing venues. We identified and reported safety issues, lost children, and illegal fireworks. We assisted the deputies with crowd movement and safety. With Comm 469 stationed next to the sheriff's command post, CARES was able to provide quick and accurate communications between the volunteers and the command post about dangerous activities, residents' concerns, crowd sizes, and crowd movements throughout the event. And finally, we all enjoyed the show!
More News: Home, Recent 1 2 3 4 5 6 7 8 9 10 11 12 13 14 Previous
Upcoming Activities

1 Dec 2022, General Meeting
Topic: Exercise Review (?), Year in Review, 7:30pm, Zoom

7 Dec 2022, New Member Orientation
A short introduction to CARES. 7pm-8pm, Location TBD

5 Jan 2023, Drill Prep
Topic: Prep for the January Alt911 Field deployment, 7:30pm, Zoom

21 Jan 2023, ALT911 Exercise
Field deployment with packet and voice message passing, 8:30am to 12:00pm