Welcome to Cupertino ARES/RACES
This site is operated by and for Cupertino Amateur Radio Emergency Service (CARES) members interested in emergency preparedness and amateur radio communication. Visitors are welcome to check us out.
---
What's News!
City Hall & De Anza ARKnet Sites Deployed!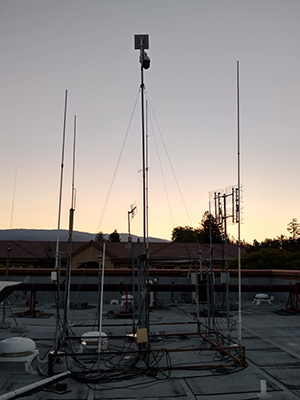 Posted by Marcel AI6MS, 27 Aug 2016
It's been a busy few months for the ARKnet project since the Lehigh Sector Site was deployed in February. Today, we successfully deployed the City Hall Client Site and brought the initial system online! A HUGE thanks to Ken Erickson from the City and our amazing volunteers Hella KJ6OHF, John KI6QDF, Javen KF7JO, and Paul for helping during each of these recent deployments. The De Anza ARK site was deployed on Saturday 7/16/2016 and is now our second fully off-grid solar-powered radio site and ready to be tested out in our next communications drill.
The ARKnet project network now has three functional sites which are the City Hall/EOC, De Anza ARK, and Lehigh Sector Site. With these three sites now deployed, we can start testing out the system and working with CARES and CERT to determine how we want to use the system and what our next features and sites will be.
If you want to learn more about this system, Marcel AI6MS will be giving a presentation on the ARKnet Project at the Pacificon Amateur Radio Convention on Saturday, October 15, 2016 in San Ramon. More information at
www.pacificon.org
.
Comm Outage Exercise, this time by Packet

Posted by Jim KN6PE, 7 May 2016
CARES hosted a second Communications Outage exercise with the support of Cupertino Citizen Corps, the big difference was passing all simulated 911 message traffic by packet. How did we do? Eleven field teams were deployed with scenarios heavily weighted toward 911 traffic. Considering the time to set up individual packet stations, and that this was a predominantly off-the-grid event, we passed more 911 traffic to County Comm in less time! And, they were all legible!
See the entire list of
911 Messages
that were received by our simulated County Comm packet station as well as the event's
After Action Report
. Also, check out the
Photo Album
for a look at some of the field stations!
More Details...
Big Bunny Fun Run a hit!

28 Mar 2016
Cupertino Citizen Corps turned out in force to support the City's 11th Annual 5K race, an event where proceeds go to "
Charity: Water
", an organization whose mission is to bring clean and safe drinking water to every person in the world.
Over 30 CARES, CERT, and MRC members supported the event throughout the course. Watch for the After Action Report for a summary on how it went.
ARKnet, Lehigh Sector Site on line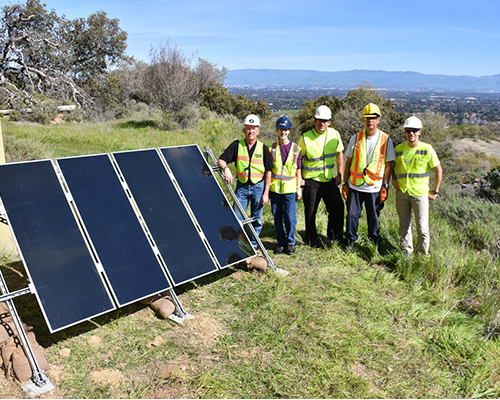 Posted by Marcel AI6MS, 27 Feb 2016
It brings me great pleasure to inform you that we have successfully deployed the Lehigh Sector Site today at the Lehigh Permanente Cement Plant. The installation went very smoothly and all systems are fully operational at this time. The Lehigh Plant has been exceptionally welcoming and accommodating for this project. Their approval for using this site was the final step in making this project possible. Check out the
Photo Album
for a look at the action.
A special thanks to Judy KK6EWQ, Allan KD6QPP, Kenneth W6KWF, and Jim KN6PE for their assistance in the installation and preparations for this site deployment!
In the coming months, we'll be deploying multiple client sites for ARKnet around the city. Please contact me if you are interested in learning more or helping with these client sites.
More Details...
More News: Home, Recent 1 2 3 4 5 6 7 8 9 10 11 12 13 14 Previous
Upcoming Activities

1 Dec 2022, General Meeting
Topic: Exercise Review (?), Year in Review, 7:30pm, Zoom

7 Dec 2022, New Member Orientation
A short introduction to CARES. 7pm-8pm, Location TBD

5 Jan 2023, Drill Prep
Topic: Prep for the January Alt911 Field deployment, 7:30pm, Zoom

21 Jan 2023, ALT911 Exercise
Field deployment with packet and voice message passing, 8:30am to 12:00pm